As we all work through these challenging times we still need to eat and we should support our local restaurants who are unable to remain open. This is also a great time to try some new food options. We will be posting your recommendations, and opinions on restaurant take out and delivery. Please send us your ideas, good and bad reviews and more so others can benefit.
NOTE: This is a fluid situation as some restaurants have decided to close or change their hours. Please contact them first for any updates.
Pearl Asian Kitchen
The Hansons love the food at Pearl Asian Kitchen at 20060 Van Aken Blvd. Shaker Heights, Ohio 44122. They especially like the Pad Thai, Lo Mein and Cashew Chicken. Don't forget the eggrolls.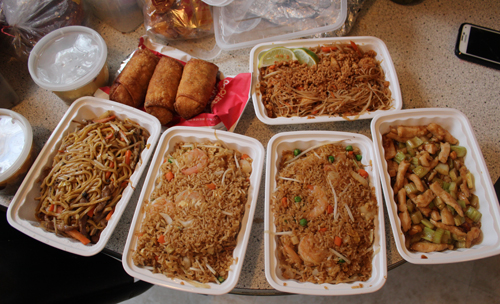 They are open for carry out and curbside pickup. Ask about in-car pickup at 216-751-8181


---
Siam Cafe
Oanh Loi-Powell says to try Siam Cafe at East 40th and St. Clair.
"We love take out from Siam Cafe. When I was travelling a lot, I would call my order in as I was driving from the airport and it would be ready for pick up by the time I got there, 10-15 minutes. Pan fried noodle dish would be packaged with the noodles in one container and the sauce, in generous portion, in another container, ensuring a perfect crispy noodle take out experience.
Carry-Out Hours daily from 11:00 a.m. – 9:00 p.m.
3951 St Clair Ave NE Cleveland, Ohio 44114


---
Thai Kitchen Lakewood
Kimlee Srme suggests Thai Kitchen Lakewood at 12210 Madison Ave, Lakewood, Ohio 44107. It is now take-out only and offers curbside pickup. Kimlee says "My mom is still committed to providing accessible food to the community, especially since we have a senior center right next door and many of the residents come to her for a days worth of food many times a week. She is also exploring the idea of implementing a delivery option for the Lakewood-area."
#30 our house fried rice is a great choice, especially if you're a newbie in Thai Food. you can try #31, our Veggie/Vegan fried rice. Lots of great flavors, made with brown rice, and healthy. #38 is our take on Pad Thai. We're from the central region of Thailand, so most times you'll that people from the central region tend to make things juicier, saucier so our Pad Thai has flavor or sauce to savor.
---
Irie Jamaican Kitchen
Dorjän Scott suggests Irie Jamaican Kitchen. "They have a West side location on Pearl Rd and East side one on E. 185th. Like Jamaican meets Chipotle, really good!" There's the "traditional" bowl which is the standard jerk chicken, rice and peas, caggabe, and plantains. Or you can do it "Jahpolte" style and pick your own toppings. With a Ting (grapefruit pop), of course.
---
Piccolo
Jacqueline Sweeney says "Piccolo's has 4 person family meals for a good price." 1261 SOM Center Rd. Mayfield Heights, OH 44124. (440)-646-1383. T-F: 11:30-2:30, 4:30-8:00 Carry-out, Curbside, Catering Only. SAT: 3-8 Carry-out, Curbside, Catering Only. SUN AND MON CLOSED
15% off all CARRY-OUT & CATERING TO-GO orders. New FAMILY DINNER PACKAGES serves 4-6ppl
---
The Gateway Diner
Bob Heiss suggests The Gateway Diner at 29325 Euclid Avenue in Wickliffe, Ohio 44092. 440-295-8095
We will remain open for carry out and use our pick up window. There are 3 ways to order: 1. Come in and wait, 2. Call ahead and pick up or 3. Order online and pick up. We have adjusted our hours please take note in the changes: Monday-Thursday, 8:30a-2:00p
Friday, 8:30a-2:00p and then 4:00p-7:00p
Saturday, 9:00a-2:00p and then 4:00p-7:00p
Sunday, 9:00a-1:00p
---
Ha Ahn
Ha Ahn is open regular hours for carry out! Call ahead at (216) 664-1152 for pick up, or order on Grub Hub. Ha Ahn offers delicious Korean and Japanese dishes. Some of my favorites are the spicy tofu soup, spicy squid, and bibimbop!
Ha Ahn, 3030 Superior Avenue, Cleveland, OH 44114
(216) 664-1152
Closed Sunday; Monday – Saturday hours 11AM-9PM
---
Bob Sferra Culinary Occasions
South Euclid Mayor Georgine Welo recommends Bob Sferra Culinary Occasions and says " really love just about everything, looking forward to their Lentil Chili and Mac & Cheese and lemon bars! "
4261 Mayfield Road South Euclid, OH 44121
Phone: 216.973.6271

All meals will be available to order in our new online shop! Visit www.culinaryoccasions.com and follow the link to our marketplace. Online orders will be cut off at 9am for that day's meals. After 9am, please call for availability and ordering. All meals are available only on the date listed. À la carte items and desserts are available any day as an addition to a purchased meal. Delivery is available to the greater Cleveland area, check website for fees. Pickup is available after 11 a.m. You will always receive a confirmation from us when an order is placed. Questions? Call (216) 973-6271 or email info@culinaryoccasions.com.
---
Gypsy Beans and Baking co.
Cleveland Councilman Matt Zone says " They have fabulous lunches, as well as homemade pastries, cookies and delicious coffee."
Gypsy Beans and Baking co. 6425 Detroit Ave Cleveland, Ohio 44102
(216) 939-9009 Hours 8:00 AM – 5:00 PM
---
Mizu Japanese Sushi
Wayne Wong says "the Japanese Food carry out is always delicious at Mizu Japanese Sushi Restaurant. Excellent variety of sushi, cooked. And raw options. Great selection of entrees like this Salmon Teriyaki, shrimp tempura, and Unagi rice bowl. Clean and efficient with courteous staff."
Mizu Japanese Sushi
10219 Brookpark Rd. Parma, Ohio 44130
(216) 898-0098
---
Pickle Bill's
"I am loving that Pickle Bill's in Grand River is doing takeout for the first time since opening in 1967." Check out the takeout menu which will be offered at 25% off your total bill.
Call 440.352.6343 for delivery.
---
The Fairmount
Olga Nagdaseva suggests The Fairmount at 2448 Fairmount Blvd, Cleveland Heights. She says her favorites are Flat bread pizzas and Lobster Mac and Cheese.
The Fairmount is open for take out (ask about delivery options). Everyday from noon to 9 P.M. 216.229.9463 to order your favorite food, beers and wines.
---
Fratello's
Jim Buchanan reccomends Fratello's at 32085 Electric Blvd, Avon Lake. Jim says "Yum" to the Chicken Fratello.
Carry-out only between the hours of 4:00 to 8:00 Monday through Thursday, and from 4:00 to 9:00 on Friday and Saturday. At this point we will be closed on Sunday, as always. Carry-out will include our entire dinner menu, plus wine and beer as supplies are available.
---
Mario Fazio's Italian Restaurant
Luke Mooney says "Mario Fazio's is excellent! Best lemon chicken in NEO. They do free delivery within 8 miles which is very convenient. Great food and great people.
34400 Chardon Rd, Willoughby Hills, OH 44094. (440) 585-3883
---
New Heights Grill
Michael Conkey says "Mary enjoys the Reuben. I myself love the wings and chicken sandwich. Never had a bad meal. Enjoy."
New Heights Grill at 2206 Lee Rd. Cleveland Heights, Ohio 44118. (216) 371-3138
---
Manhattan Deli Bar & Grille
Mona Alag says Manhattan Deli Bar & Grille is her "go-to place." They have New York deli foods and even a special Lenten menu. Patsa, steak chicken plus deli andwiches like corned beef.
Monday to Thursday 08:00 am – 09:00 pm, Friday to Saturday 08:00 am – 10:00 pm and Sunday 08:00 am – 08:00 pm.
34601 Ridge Road, Willoughby, Ohio 44094 Phone (440)585-1177
---
Ward 14 Restaurants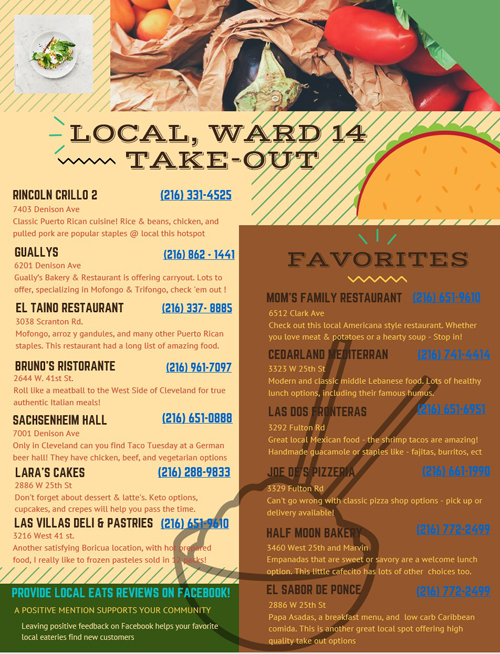 ---
Refugee-Owned Restaurants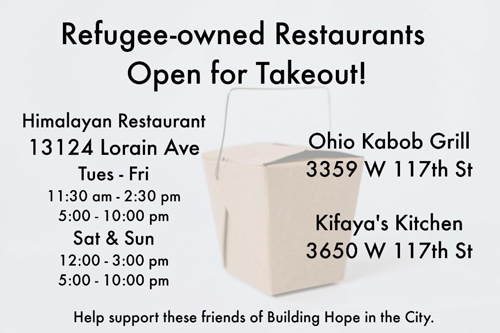 ---
University Circle Restaurants
Check out the list of UCI restaurants
---