Ethnic Food
Cleveland is home to about 120 distinct ethnic groups and fortunately they have continued their culinary traditions. We are fortunate to have a variety of ethnic food choices within a few miles of home. Here you will find some of these special ethnic foods, traditions, tips and recipes.
---
We asked community leaders of various ethnic heritages to share some holiday traditions of their culture. Here are some of the tastiest dishes that Argentinians like to serve around Christmas.
---
Asian Food
You can also look for specific Asian foods such as Chinese, Indian, Japanese, Vietnamese and so on below. 
Cleveland Pickle
chef Josh Kabat brought out some Asian inspired gourmet pickles for the August 2019 Night Market in Old Chinatown in Cleveland Ohio. Some of the flavors included Wasabi, Spicy Sriracha and Sweet Ginger pickles.
---
Ball Ball Waffle from Hong Kong
One of the most popular street food stands at the 2018 Cleveland Asian Festival was Ball Ball Waffle from Hong Kong.  They made regular and chocolate chip and other flavor waffles in a waffle maker that produces little balls to eat.  The authentic Hong Kong style Egg Waffle is also called a Bubble Waffle.
---
Injera Bread, Tibs, Stews and more

Ethiopian Coffee Ceremony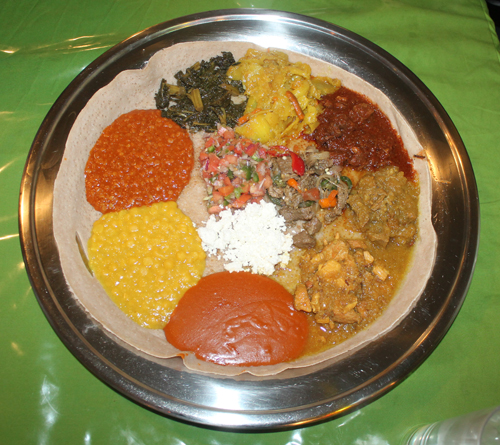 ---
Blood Sausage, Head Cheese, Klobasa and Mangalitsa Pig Meat

Hungarian Gulyas (Goulash) – all you wanted to know

Hungarian Food from the Scouts Festival
---
Cucumber Raita (Cucumber in Yogurt)

Sweet and Sour Strawberry Snack

Rajma (Indian kidney bean dish)
---
Japanese Food
Ice or Rice is a start-up based in Cleveland, Ohio. They started as a food vendor at a local summer event called Night Market Cleveland. Their motto is 'Eat new foods. Learn about the culture they come from. Love your world.' At the August Night Market they made Okonomiyaki.
Okonomiyaki
is a Japanese savory pancake containing a variety of ingredients.
http://www.clevelandpeople.com/groups/japanese/japanese.htm
Theirs featured a pork belly, cabbage pancake topped with Okonomiyaki sauce, mayo, powdered seaweed and bonito flakes.
---
Saj Bread with Cheese, Zaatar (seasoning of Thyme, Sumac, Sesame and Salt) or Nutella.
---
Masa from the Cradle of Corn where Guatemala and Mexico meet

Making Corn a Super Food

Masa is the base of Mesoamerican food

Different tamale wrappers and fillings

Southern and Cleveland style tamales

How is lye used in cooking?

When would people make tamales?

First steps in making traditional tortillas and tamales

Next steps in making traditional tortillas and tamales

Grinding masa – the batter for tamales

Masa lasts a long time and is good for many things

Mexican food – every day and holidays
---
Green beans with meat on rice and other traditional Middle Eastern foods
---
Polish Food
For centuries, Polish people have enjoyed Packzi the week before Lent.
In case you don't know, Paczki (pronounced poanchkee) are very rich donuts, deep fried and then filled with fruit or cream filling and covered with powdered sugar or icing. Eating paczki is the traditional Polish way to indulge before the fasting in observance of Lent begins on Ash Wednesday. Paczki have been known in Poland at least since the Middle Ages.
See more about this Polish treat – Paczki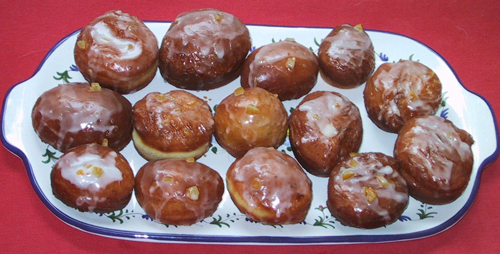 ---
Shashlyk is like shish kabob and can be chicken, beef, pork, lamb and even fish. The meat is marinated and put on skewers and grilled on an open flame.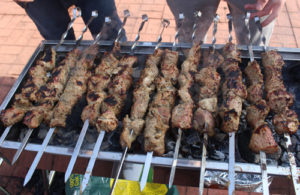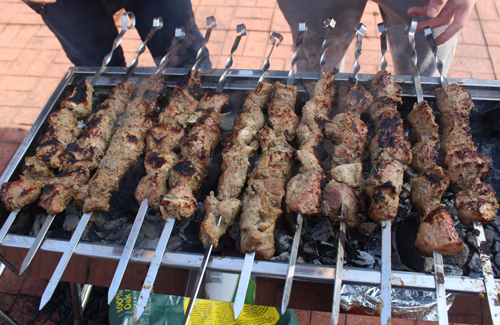 The Russian celebration of Maslenitsa also features Blini (crepes/pancakes) (maybe with a cup of Caviar), Baranki (pretzels), Pelmeni (dumplings), Sbiten (traditional hot herbal beverage) and Petushki (Russian lollipop).
---
The national dish of Serbia is Ćevapi or ćevapčići a grilled dish of minced meat, a type of skinless sausage

Palatschinke (crepes) and Krofne (airy filled doughnuts) are also popular
---
Slovenian sausages (kranjske klobase) are cured and smoked and prepared from recipes brought to the United States by immigrants from Slovenia.
---
Vietnamese Chicken Cabbage Salad

Vietnamese Summer Rolls
---
West African Food
Yum Village is a new Cleveland restaurant that features West African and Caribbean food. It's at 2215 Chester, right across from Cleveland State University. We spoke with one of the owners Carasai Ihentuge who said there are 2 Yum Villages in his hometown of Detroit. Most of the food in the 2,400-square-foot space is non-GMO and vegan, but meat and chicken dishes are offered. Most are not very spicy. Carasai's father is from Lagos Nigeria and he grew up eating this food. For us meat lovers, try the Flip Village Combo which is Mango Curry Chicken with Ginger Curry Chickpeas and White Potato Flips over a bed of delicious Coconut Rice or the DJ Village Combo which is Jezebel Peach Honey Mustard Chicken over Turmeric Rice served with Truffle Oil Greens and White Potato Flips. Neither is spicy.