Slovenian Food
Slovenian Food is influenced by the diversity of Slovenia's landscape, climate, history and neighboring cultures. In 2016, the leading Slovenian ethnologists divided the country into 23 gastronomic regions. The first Slovene-language cookbook was published by Valentin Vodnik in 1798..
Slovenian sausages (kranjske klobase) are cured and smoked and prepared from recipes brought to the United States by immigrants from Slovenia.
About 1,100 polka-lovers danced their calories away at the SNPJ Farm in Kirtland, Ohio, on Wednesday, September 12, at the 15th annual Slovenian Sausage Festival hosted by the National Cleveland-Style Polka Hall of Fame and Museum. Visitors sampled sausages from vendors and voted their favorite, then took to the dance floor for eight hours of music by top polka performers.
The People's Choice Award went to Bill Azman's Quality Meats with Raddell's Slovenian Sausage Shop as the runner-up. A panel of judges picked Hocevar's Maple Heights Catering for top sausage of 2018 with Bill Azman's as runner-up. All three sausage vendors are based in the Cleveland, Ohio, area.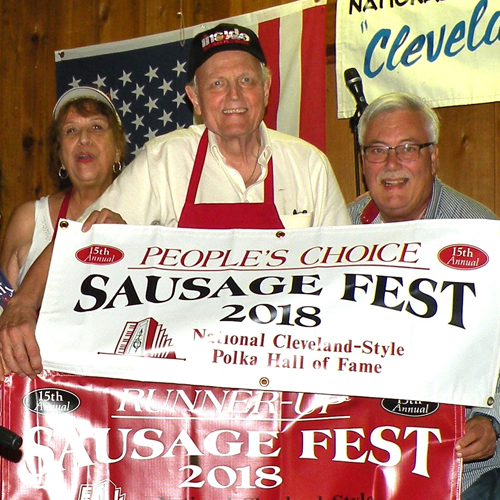 All three winners rely on century-old sausage recipes handed down by their grandparents. An estimated two hundred pounds of sausages were enjoyed at the event.