Hungarian Food
Everyone knows Hungarian Goulash (Gulyas) but Hungarian food is much more than that.  Traditional Hungarian dishes are primarily based on meats, seasonal vegetables, fruits, fresh bread, dairy products and cheeses.
Hungarian cooking features stews, roasted pork, breads, pastries, beef, poultry, lamb, and game, as well as paprika and pepper. The mixing of different varieties of meats is a traditional feature of Hungarian cuisine.
Goulash (gulyas) is a soup-like stew using meat with bones, paprika, caraway, vegetables (typically carrots and parsley root), other spices, and potatoes or various tiny dumplings or pasta (such as csipetke) simmered with the meat.
Did you know…  The word gulya means 'herd' in Hungarian, and gulyás means 'herdsman'?
Hungarian Gulyas (Goulash) – all you wanted to know
Tom Ratoni-Nagy tells about traditional Hungarian Gulyas (Goulash) at the annual Goulash-Gulyas Cook-off.
---
Blood Sausage, Head Cheese, Klobasa and Mangalitsa Pig Meat
Tom Ratoni-Nagy tells about traditional Mangalitsa Pigs and Hungarian meats – Hungarian Pork, Blood Sausage, Head Cheese, Klobasa – at the annual Goulash-Gulyas Cookoff for the Hungarian Cultural Garden.
---
---
---
Hungarian Scout Festival Food
Ohio's largest Hungarian festival returned on September 5, 2021 at the German Central Park in Parma, Ohio. The kitchens served Hungarian delicacies such as stuffed cabbage, fresh sausages, grilled pork steak, chicken paprikas with dumplings, jam filled crepes, and "lángos" (fried dough). The Café Budapest featured scrumptious tortes, pastries, and espresso coffee. Strudel and fresh baked bread were also on the menu.
The lines snaked around in front of the counters serving Hungarian delicacies and fresh baked goods. The numbers speak for themselves:
2,800 participants
nearly 1600 fried dough, elephant ears
500+ grilled pork steaks
1500 pieces of stuffed cabbage rolls
nearly 500 pounds of chicken paprikash
nearly 500 pieces of debreceni sausage
225 pounds of fresh grilled sausage
26 barrels of beer
18 gallons of ice cream
650 crepes
750+ slices of dobos and walnut cake
650 napoleons
26 strips of strudel
600 bacon biscuits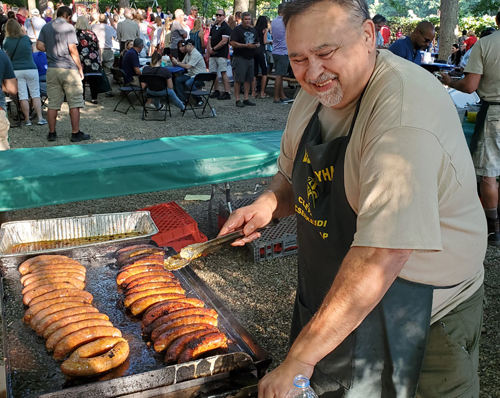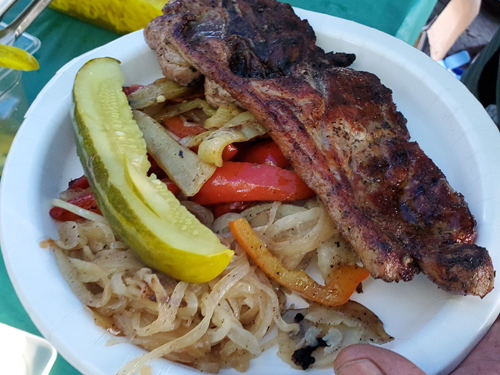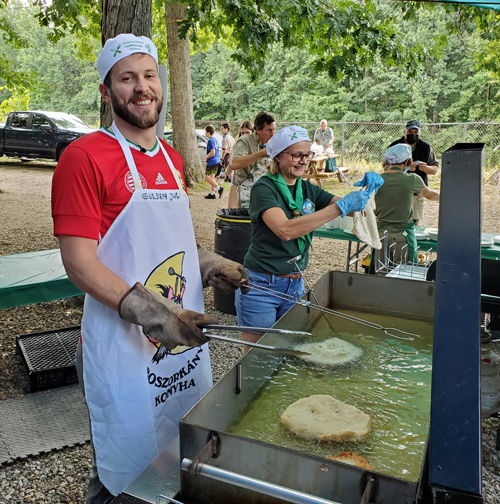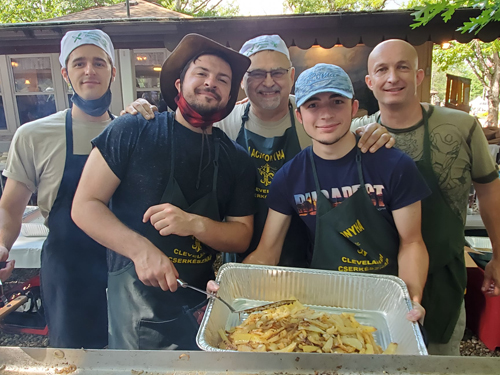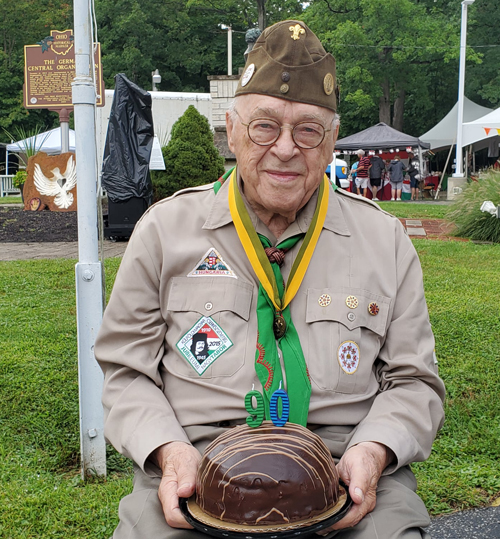 Hungry yet? See more from the 65th annual Hungarian Scouts Festival in Cleveland.