Cleveland Cooks
Who would have thought that Cleveland would become a food mecca and home to some of the best chefs and restaurants in the world?  We would!  With almost 120 distinct ethnic groups in Cleveland it was inevitable that the great recipes and techniques that have been passed down for generations would surface.
ClevelandCooks is geared toward:
Chefs
Home cooks and wannabe chefs
Foodies
People who like to dine out and try new things
Food industry entrepreneurs
And more
ClevelandCooks features the best restaurants and chefs in Cleveland and NE Ohio and lists our favorites in a variety of categories (looking for great dim sum anyone?)
The videos on ClevelandCooks will educate and entertain.
The tips will help you prepare and enjoy food better.
The Food Adventurers will let you join like-minded people to enjoy local restaurants together
And more
---
Featured this Week
Slovenian Sausage Fest
About 1,100 polka-lovers danced their calories away at the SNPJ Farm in Kirtland, Ohio, on Wednesday, September 12, at the 15th annual Slovenian Sausage Festival hosted by the National Cleveland-Style Polka Hall of Fame and Museum. Visitors sampled sausages from vendors and voted their favorite, then took to the dance floor for eight hours of music by top polka performers.
The People's Choice Award went to Bill Azman's Quality Meats with Raddell's Slovenian Sausage Shop as the runner-up. A panel of judges picked Hocevar's Maple Heights Catering for top sausage of 2018 with Bill Azman's as runner-up. All three sausage vendors are based in the Cleveland, Ohio, area.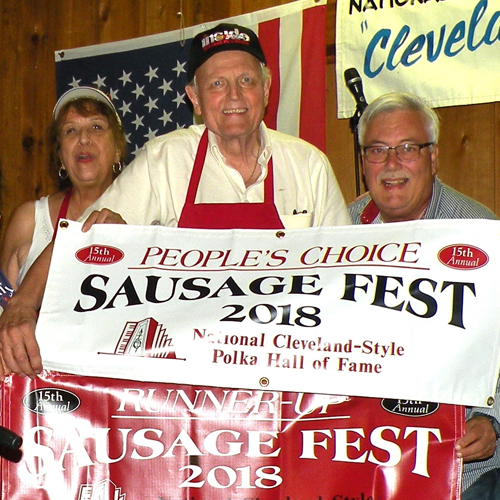 Marie and Bill Azman, proprietors of Azman's Quality Meats
with Denny Bucar of the Polka Hall of Fame
---
Discounts, Coupons, Specials, Events and more.  Sign up for the free ClevelandCooks eNews to be the first to learn about these specials.
Did you know: Coffee was first discovered and used in Ethiopia?
Hungry Yet?
Next Steps…
Sign up for our free eNews to be kept informed about news, specials and events