Cleveland Cooks
Who would have thought that Cleveland would become a food mecca and home to some of the best chefs and restaurants in the world?  We would!  With almost 120 distinct ethnic groups in Cleveland it was inevitable that the great recipes and techniques that have been passed down for generations would surface.
ClevelandCooks is geared toward:
Chefs
Home cooks and wannabe chefs
Foodies
People who like to dine out and try new things
Food industry entrepreneurs
And more
ClevelandCooks features the best restaurants and chefs in Cleveland and NE Ohio and lists our favorites in a variety of categories (looking for great dim sum anyone?)
The videos on ClevelandCooks will educate and entertain.
The tips will help you prepare and enjoy food better.
The Food Adventurers will let you join like-minded people to enjoy local restaurants together
And more
---
Featured this Week
New food options for the 2018 Cleveland Indians at Progressive Field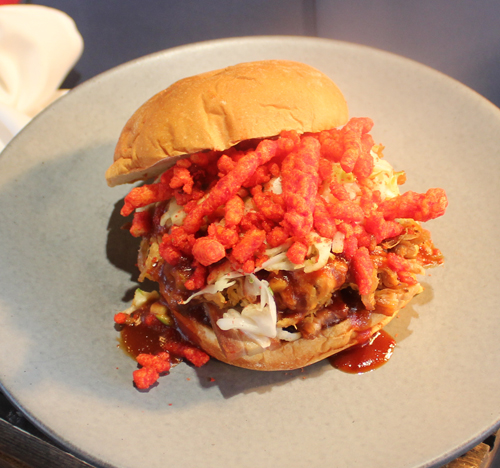 Executive Chef Todd Brazile brings his Texas roots to the new menu at Progressive Field, the home of the Cleveland Indians. In this short video, Chef explained some of the new offerings and trends such as Chicken and Tater Tot Waffles, Tacos and Nachos but recommended his favorite, the Flamethrower.
Photos and ingredients of the new foods at Progressive Field for 2018
Food is part of the baseball experience.  The Cleveland Indians gave a preview of what menu items are new at Progressive Field for Cleveland Indians games in 2018.  This includes classics like Kielbasa but also southern influenced items like Chicken and Tater Tot Waffles and the Mac Daddy Dog as well as Tex-Mex offerings like the Torta de Pollo, Club Nachos and Tacos and the new Flamethrower pork belly and pulled pork sandwich.
---
Discounts, Coupons, Specials, Events and more.  Sign up for the free ClevelandCooks eNews to be the first to learn about these specials.
Did you know: Coffee was first discovered and used in Ethiopia?
Hungry Yet?
Next Steps…
Sign up for our free eNews to be kept informed about news, specials and events
Subscribe to our free YouTube Channel