Support Our Local Restaurants
As we all work through these challenging times we still need to eat and we should support our local restaurants who are unable to remain open. This is also a great time to try some new food options.
---
Cleveland Cooks
Who would have thought that Cleveland would become a food mecca and home to some of the best chefs and restaurants in the world?  We would!  With almost 120 distinct ethnic groups in Cleveland it was inevitable that the great recipes and techniques that have been passed down for generations would surface.
ClevelandCooks is geared toward:
Chefs
Home cooks and wannabe chefs
Foodies
People who like to dine out and try new things
Food industry entrepreneurs
And more
ClevelandCooks features the best restaurants and chefs in Cleveland and NE Ohio and lists our favorites in a variety of categories (looking for great dim sum anyone?)
The videos on ClevelandCooks will educate and entertain.
The tips will help you prepare and enjoy food better.
The Food Adventurers will let you join like-minded people to enjoy local restaurants together
And more
---
Featured this Week
It's Paczki Time!
It's almost time to enjoy Paczki! In case you don't know, Paczki (pronounced poanchkee) are very rich donuts, deep fried and then filled with fruit or cream filling and covered with powdered sugar or icing.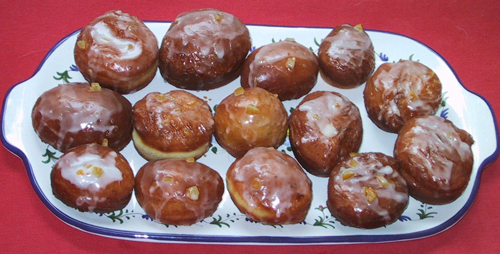 Eating paczki is the traditional Polish way to indulge before the fasting in observance of Lent begins on Ash Wednesday. Paczki have been known in Poland at least since the Middle Ages.
Learn more about paczki traditions and memories.
---
Coit Road Farmers' Market
Kevin Scheuring of the Coit Road Farmers' Market in East Cleveland told us about the Coit Road Farmers' Market which has been an anchor on Cleveland's east side since 1932, with a mission of providing access to affordable, locally grown farm fresh products to the residents of Greater Cleveland. The non-profit Market is operated by volunteers supported by customers, farmers, sponsors and fund raising events. It is the 2nd oldest farmer's market in the state of Ohio.
Kevin also talked about Tomatillos, Heirloom Tomatoes and making your Salsa dry less wet.
---
Sign up for the free ClevelandCooks eNews to be the first to learn about Discounts, Coupons, Specials, Events and more. 
Did you know: Coffee was first discovered and used in Ethiopia?
Hungry Yet?
Next Steps…
Sign up for our free eNews to be kept informed about news, specials and events
Subscribe to our free YouTube Channel