Cleveland Cooks
Who would have thought that Cleveland would become a food mecca and home to some of the best chefs and restaurants in the world?  We would!  With almost 120 distinct ethnic groups in Cleveland it was inevitable that the great recipes and techniques that have been passed down for generations would surface.
ClevelandCooks is geared toward:
Chefs
Home cooks and wannabe chefs
Foodies
People who like to dine out and try new things
Food industry entrepreneurs
And more
ClevelandCooks features the best restaurants and chefs in Cleveland and NE Ohio and lists our favorites in a variety of categories (looking for great dim sum anyone?)
The videos on ClevelandCooks will educate and entertain.
The tips will help you prepare and enjoy food better.
The Food Adventurers will let you join like-minded people to enjoy local restaurants together
And more
---
Featured this Week
Steeped Coffee
We have come a long way with coffee. I remember Mom and Dad having a big percolator on the stove for making coffee. Then Joe DiMaggio and his Mr. Coffee became the new way to enjoy the drink.
Automatic drip coffee makers are still around but with the surge of Starbucks and similar companies, many people started getting their coffee outside the house. For the last several years we have seen the popularity of machines like the Keurig where you put in a pod and make a single cup of coffee.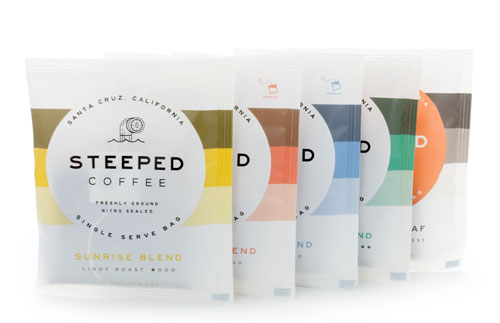 Now a company called Steeped Coffee is taking us back to a simpler time with a simple idea.
Read our review of Steeped Coffee
---
Sign up for the free ClevelandCooks eNews to be the first to learn about Discounts, Coupons, Specials, Events and more. 
Did you know: Coffee was first discovered and used in Ethiopia?
Hungry Yet?
Next Steps…
Sign up for our free eNews to be kept informed about news, specials and events
Subscribe to our free YouTube Channel