Cleveland Cooks
Who would have thought that Cleveland would become a food mecca and home to some of the best chefs and restaurants in the world? We would! With almost 120 distinct ethnic groups in Cleveland it was inevitable that the great recipes and techniques that have been passed down for generations would surface.
ClevelandCooks is geared toward:
Chefs
Home cooks and wannabe chefs
Foodies
People who like to dine out and try new things
Food industry entrepreneurs
And more
ClevelandCooks features the best restaurants and chefs in Cleveland and NE Ohio and lists our favorites in a variety of categories (looking for great dim sum anyone?)
The videos on ClevelandCooks will educate and entertain.
The tips will help you prepare and enjoy food better.
The Food Adventurers will let you join like-minded people to enjoy local restaurants together
And more
---
Featured this Week
Cleveland Cooks Cookbook Flash Sale!
We discovered a limited supply of what we thought was the sold out Volume 2 of the Cleveland Cooks cookbook and are offering it at a special price for a limited time (or till sold out)
First Come, First Served!
Volume 2 of Cleveland Cooks has over 280 pages of recipes from people you might recognize such as TV and radio personalities such as Hollie Strano, Mark Nolan, Danielle Serrino, Betsy Kling, Doug Adair, Sandy Lesko Mounts, Author Les Roberts and others.
And of course there are numerous ethnic recipes handed down in Chinese, Italian, Polish, German, Irish, Swedish, Jewish , Lebanese and other families.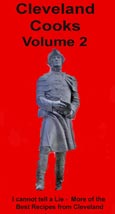 But what makes Volume 2 special is we asked people for their special recipes from </div>amazing cooks (family members usually) who have passed on. Their children and grandchildren submitted the favorites and specialties that a loved one used to make when he or she was alive. As one said, "I feel like Grandma is still here whenever we make her special dish."
The special pricing for these collector items is just $15 which includes shipping (in the US) and tax. You can send a check made out to:
Magnum
868 Montford Rd.
Cleveland Hts. OH 44121 or just click on the button below to buy securely with a credit card through Paypal.
They make great gifts so feel free to order more than one (while supplies last.)
Note: We have a very limited supply of Cleveland Cook Volume 3 and a couple of Volume 1. Email us if you are interested.
---