Featured this week on ClevelandCooks.com.
We found a few shrink-wrapped copies of the sold out Cleveland Cooks™ Volume 1 Cookbook. Grab this Collector's Item now – first come, first served. Extremely limited quantity.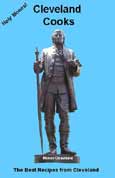 Cleveland Cooks™ Volume 1 was sold out and now a collectors item. We have special pricing on this very limited edition of just $15.
---
Euclid Beach Park Concessions
On Wednesday May 22, 2019 the Cleveland Metroparks had a ribbon cutting ceremony to mark the grand opening of the Euclid Beach Pier.
The new pier is 315-feet long and 16 to 24 feet wide, extending 150 feet over Lake Erie. The newest park amenity was designed to improve accessibility and offers guests clear views of the downtown skyline and historic Euclid Beach shoreline. The pier features three custom archways that pay homage to the historic park and former Euclid Beach Amusement Park.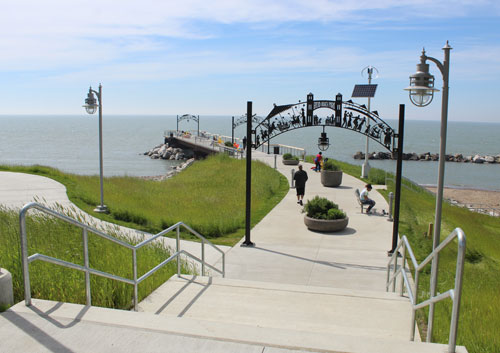 Of course every Park has to have some food! Here is the Concession Stand menu at the Euclid Beach Park. The ice cream was delicious!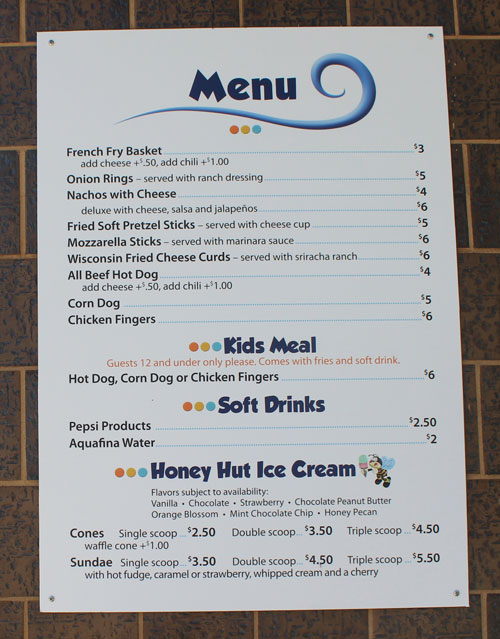 See more from the new Euclid Beach Pier
---
Ball Ball Waffle from Hong Kong at 2018 Cleveland Asian Festival
One of the most popular street food stands at the 2018 Cleveland Asian Festival was Ball Ball Waffle from Hong Kong. They made regular and chocolate chip and other flavor waffles in a waffle maker that produces little balls to eat. The authentic Hong Kong style Egg Waffle is also called a Bubble Waffle.
---
2018 James Beard Blended Burger Project™
The James Beard Foundation Blended Burger Project™ challenges chefs to create their best burgers blending 75 percent ground meat (beef, venison, bison, turkey, etc.) with 25 percent cultivated, chopped mushrooms. According to the Mushroom Council, these sustainable burgers are healthier, lower in calorie and cholesterol and juicier than traditional burgers.
More (including photos and videos) pn the Blended Burger Project and the participating Cleveland chefs.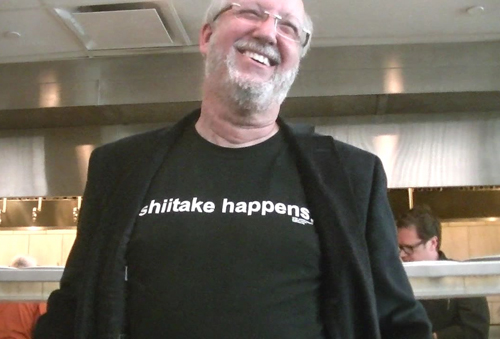 ---
Look for Cooking Classes, Special Events, Discounts and more
By popular demand the 4th volume of the Cleveland Cooks™ cookbook series is being worked on now and should be available by Christmas. Volume 3 of the popular cookbook has over 285 pages of the best recipes from Cleveland area people. The focus of Volume 3 is Ethnic Recipes. Cleveland is home to over 100 different ethnic groups and each group has specialty recipes that have been handed down through generations. Cleveland Cooks™ Volume 3 – Ethnic Recipes contains recipes from over 45 different ethnic groups.
We are offering the popular Cleveland Cooks™ cookbooks at a special price.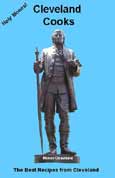 Cleveland Cooks™ Volume 1 is sold out and now a collectors item.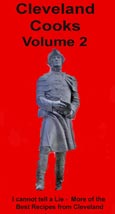 Cleveland Cooks™ Volume 2 is in limited supply but still available.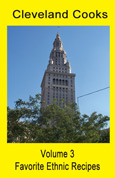 Cleveland Cooks™ Volume 3 is also limited but still available.
Special Offer
For a limited time, and while supplies last, you can now order Cleveland Cooks™ Volume 2 or 3 at the special price of only $10 (regularly $15) plus shipping. Send a check or money order made out to Magnum for $10 plus $2 shipping (total $12) per book to
Cleveland Cooks
2800 Euclid Ave. Suite 500
Cleveland, OH 44115
Or pay securely with a credit card via PayPal.
Cleveland Cooks™ Volume 2
---
Cleveland Cooks Volume 3 – Ethnic Recipes
---
Save on Shipping when you order Volume 2 and 3 together.
Cleveland Cooks Volumes 2 and 3
---
Zeleke Belete, owner of the Ethiopian Restaurant Zoma in Cleveland Heights Ohio, told the ClevelandPeople.Com Food Adventurers that they had entered a Fork Free Zone and explained that Ethiopian food is eaten with the spongy injera bread instead of silverware.
---
Cucumber Raita (Cucumber in Yogurt)
Anjan Ghose, assisted by his wife Kathy, prepared a Cucumber Raita (Cucumber in Yogurt) at an Asian cooking demonstration at the 8th annual Cleveland Asian Festival. The side dish is made with cucumbers, yogurt and spices.
Ingredients:
2 medium sized cucumbers, peeled and cut into 1/4″ cubes
32 oz plain nonfat yogurt
1/2 tablespoon table salt
1/t tablespoon red chile powder
1/4 tablespoon ground roasted cumin
Add all the ingredients in a bowl, mix well and refrigerate until served.